Retaking the MCAT
How to determine if you should retake the MCAT, when you should retake the MCAT, and how to best prep for an MCAT retake to ensure you improve your score.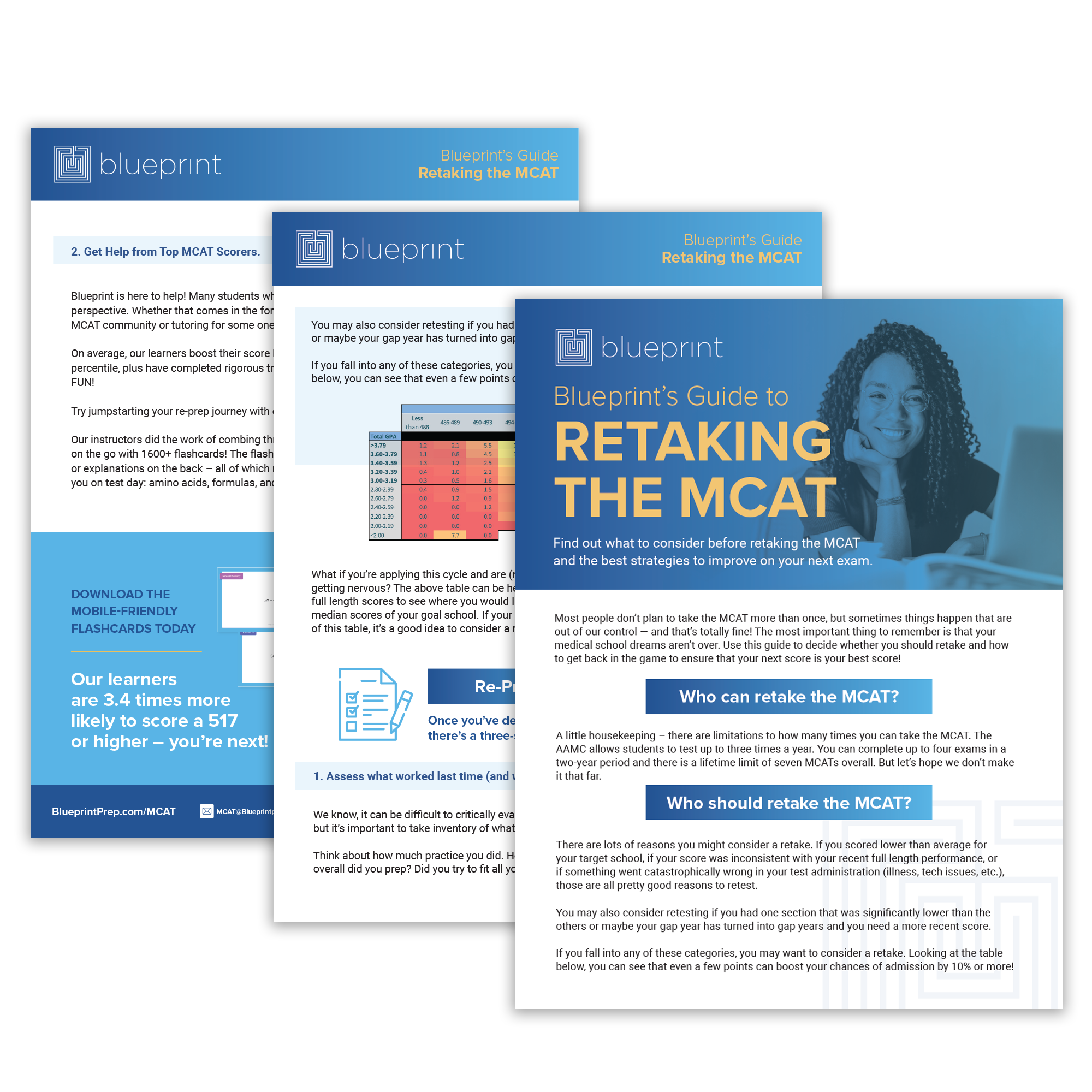 Picture this: It's MCAT score release day. You're refreshing the AAMC website for what feels like the 50th time, willing the MCAT Score Reporting System to deliver those three magical digits for your score report. And then finally, your score appears! Only, those three digits are not the goal score you were aiming for. Now you're wondering, "Should I retake the MCAT?"

Download the Blueprint Guide to Retaking the MCAT!
Retaking the MCAT is not a decision to make lightly. For one, it means going back to the drawing board to prep for the exam again. On the other hand, your new MCAT score could make all the difference in your med school application—even a score increase of just a few points can boost your chances of admission by 10% or more!

If you're considering retaking the MCAT or not sure where to start, the Blueprint Guide to Retaking the MCAT will break it all down for you!

Download the Blueprint Guide to Retaking the MCAT to see how you can make the next MCAT retake your final retake!
Determine whether you should or should not retake.
Learn how preparing to retake the MCAT is different from preparing for the MCAT the first time and how to optimize your prep time and methods.
Get the re-prepping strategies that can help you get an MCAT score increase, guaranteed!
FAQs about retaking the MCAT

Who should retake the MCAT?
There are several reasons you might consider retaking the MCAT. The top reasons for a retake are:
If you scored lower than average for your target school

If your score was inconsistent with your recent full length performance
Something went wrong in your test administration, preventing you from performing at your peak (illness, tech issues, etc.)
You had one section with a significantly lower score than the others
Is it bad to retake the MCAT?
This can depend on how a school evaluates your scores and interprets your performance, but bottom line–each of your MCAT exam scores matter for your medical school application.
Your designated medical schools receive ALL of your MCAT scores. Most schools will take your highest MCAT score into account, but they may also take the score of your most recent exam. Showing notable score progression from test to test can count in your favor when the highest and/or most recent score matters most. However, a school may average the MCAT score of all your tests. Some schools may consider the highest section scores from each test. In these instances, retaking until you hit that goal MCAT score may be counterbalanced by averaging.
Regardless of score, multiple MCAT retakes can indicate to prospective medical schools that you struggle with the required prerequisites and can give schools the impression that you will also have trouble with your medical education and/or passing the medical boards.
That's why it is important to be strategic with your prep and your testing so you can limit your retakes in achieving your best score.

How many times can I retake the MCAT?
The AAMC allows students to test up to three times a year. You can complete up to four exams in a two-year period and there is a lifetime limit of seven MCATs overall.
Do I have to pay to retake the MCAT?
Yes. An MCAT retake is the same cost and process as your initial registration. You'll need to register for the test administration by your chosen test's registration date and pay the registration fee—the current standard registration fee is $325—unless you were approved for the Fee Assistance Program.
Do I need to wait to get my retake score before applying to med school?
No, you can submit your med school application through AMCAS even if your MCAT score is still pending. However, most schools will not look at your application until your MCAT score has been reported. This can put you behind in the med school admissions process, which tends to favor early applicants. If you're retaking the MCAT, you'll want to carefully consider your retake date and how that impacts your application timeline.
Can I cancel my MCAT score?
No. Every score from every MCAT you take is reported to your designated med schools, unless you choose to VOID your MCAT on test day—which means the test is never even scored. So re-taking the MCAT won't prevent that not-so-great score from being reported in your med school application.
How should I prep for retaking the MCAT?
Prepping to retake the MCAT is different than prepping to take it for the first time. On the up side, you're not starting from Square One. On the down side, your initial prep approach didn't result in the score you wanted, so you need to rethink your strategy as you re-prep for an MCAT retake. Perhaps an MCAT prep course or personal tutoring would help on test day. The first thing you should do when asking yourself, "How should I prep for retaking the MCAT?" is to download the Blueprint Guide to Retaking the MCAT. It includes a three-step re-prep process to help you make sure this retake is your final retake!


Many of our students come to us seeking help after they've decided to retake the MCAT, and they experience life-changing score increases!

"Following my first MCAT exam, I'd become rather discouraged and nervous about my retake; however, I was determined to achieve my best score, so I sought one-on-one tutoring with Blueprint. Now, having achieved my goal score, I want to thank my tutor Sai and the Blueprint team…"

Kat
Former Blueprint Student

"I was a retaker, after initially scoring a 509. I decided I wanted to score higher and chose to take a Blueprint course during my second attempt. I took the online asynchronous course with tutoring hours as well. I am glad I made that decision because my score jumped from 509 to a 518 on the second attempt!"

Nihal
Former Blueprint Student

"The self-paced [Online] course is exactly what I needed to prepare for my MCAT retake! It had all the course material planned out in a customizable study plan, which helped me stay on track with learning all the content and broke down the topics into manageable sections so I didn't get overwhelmed with the amount of material."

Tiffany
Former Blueprint Student
"I am a retaker who did not use a prep course the first time, but realized I needed one to improve my score. I did a lot of research and this [Live Online] course seemed the obvious choice. I definitely made the right choice! The content is so well organized it helped me review a lot better than on my own…The instructors for my class were engaging and knowledgeable and always had advice. I already started seeing improvement on my first full length."

Natalie
Former Blueprint Student
Ready to go after your goal score by retaking the MCAT?
Start by downloading your free Guide to Retaking the MCAT!