A Must for Pre-Meds: Find Out What's on the MCAT in This
Easy-To-Read Guide!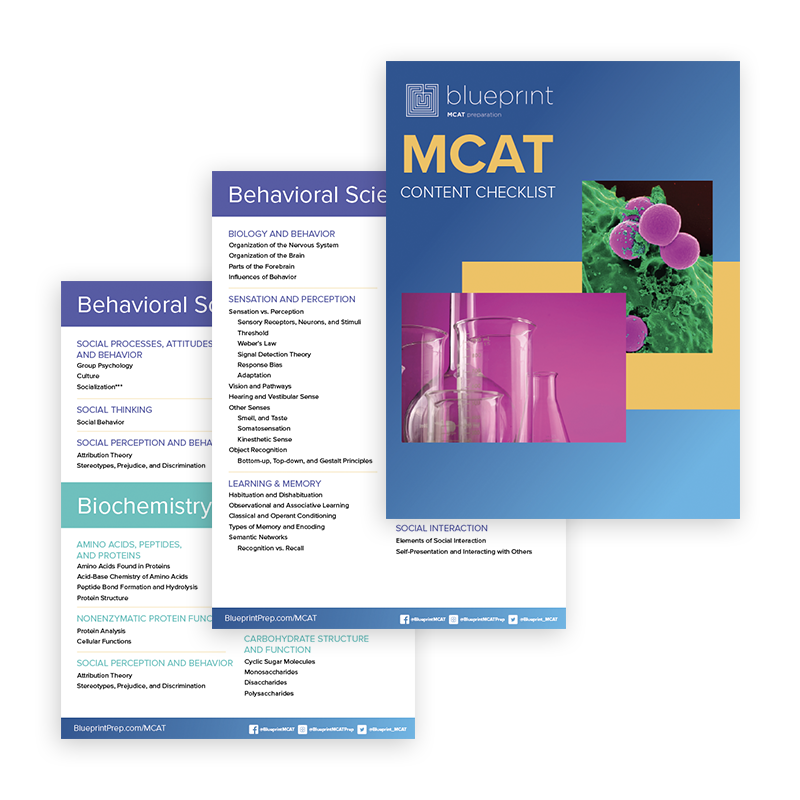 New test takers are often not sure where to start with MCAT prep. If this is you, don't worry. You're not alone. There's a lot to cover and as a busy pre-med with scribing, volunteering, and other extracurriculars filling up your calendar, you probably don't have time to make your own MCAT outline. Thankfully, Blueprint's MCAT experts have boiled down every subject on the MCAT into a content checklist to get you started and prepared for test day with what's on the MCAT.
Download the Blueprint MCAT Content Checklist to:
Make sure you cover everything on the MCAT test

Plan or improve your studying with a concise list of MCAT topics to include in your study guide

Track your MCAT preparation and content knowledge so you can show up on test day confident and ready to crush the MCAT
Whether you're gearing up to take the MCAT or simply an underclassman in school wanting to get a head start on MCAT preparation, the Blueprint MCAT Content Checklist is an integral part of any MCAT study plan.
Download our MCAT Content Checklist to find out what's tested on the actual MCAT exam!
What is the MCAT test?
The Medical College Admission Test is one of the most important exams for aspiring doctors and is required for admission to most medical schools. The MCAT has 231 questions to complete in about 7.5 hours ranging in topics from biology to psychology—you're basically tested on everything a good doctor needs to know and more! Preparing for each type of MCAT section is crucial to achieving an above average MCAT score! Unlike other standardized tests, the MCAT is not a remote exam; you will need to choose an MCAT test date and an MCAT test location, but it is administered on a computer.

Behavioral Science Section
The Psychological, Social, and Biological Foundations of Behavior section tests your understanding of the ways different factors influence perceptions and reactions to the world, including behaviors and how it changes, and cultural and social differences that influence health and well-being. You will be expected to synthesize content expertise with scientific inquiry and reasoning skills.

Chemical and Physical Foundations of Biological Systems Section
Much like the Bio section of the MCAT, the Chemical and Physical Foundation section tests you on introductory-level biology, organic and inorganic chemistry, biochem topics, as well as physics. You'll be provided with a periodic table during this section. You need to know the basic chemical and physical principles related to the mechanisms in the human body. (i.e. human tissues, organs, and organ systems).



Biological and Biochemical Foundations
of Living Systems Section
The Bio and Biochem section of the MCAT tests introductory-level biology, organic chemistry, inorganic chemistry concepts, and biochemistry. You'll also need to prove your knowledge of basic research methods and statistics.



Critical Analysis and Reasoning Skills Section
It wouldn't be a standardized test without some kind of reading comprehension questions. Enter the CARS section. The directions are clear: you will read a passage and answer a set of questions about it. Though it sounds simple, CARS passages on the MCAT can be dense and complex, requiring a deeper level of critical thinking than what you're probably used to. In addition, since there really isn't any content for you to memorize for the CARS section, it can be difficult to study for it. Many students find the CARS section the most difficult section for this very reason.


Now that I have this MCAT topic list and I know what's on the MCAT, can I self-prep for the MCAT exam? Do I need an MCAT course?

While most pre-meds students take college classes that could help them on the MCAT, the amount of content on the test can be overwhelming and will require dedicated MCAT prep and organization. It's definitely possible to self-prep for the MCAT, but there's no reason to do it alone!

Check out how Blueprint helped these students with their MCAT content review, as well as execution strategies!

"I'm a non-traditional applicant that hadn't taken many of the chemistry/physics/biochemistry courses that covered testable content on the MCAT. I'd also been out of school for several years, so pretty rough on many of the subjects. The study plan was great to lay out my studying and keep me motivated to stay on track. Blueprint was comprehensive and covered absolutely everything that I needed to know...I started with a 487 diagnostic and tested 513 on the real deal."


- Claire, Former Blueprint MCAT Student

"This is definitely the go-to MCAT resource second only to AAMC itself. Out of all of the practice material that I used to prepare for the MCAT, Blueprint has the most accurate practice tests and really great feedback about test performance after every practice test, and I found that I was able to learn and adjust my content/ strategy very easily. I highly recommend using Blueprint test prep."

- Caroline, Former Blueprint MCAT Student

"Armin and Joya have been the best instructors I have had in a class in my entire undergraduate classes. They explain things in very simple terms and make connections that I didn't know existed. My score has already jumped from my diagnostic 493 to my 2nd full length exam to 505...They never discourage you and always encourage to do better. They know the struggles of time management and give you tips on how to deal with them to succeed. I love the online course because not only do we do content review and practice questions but they give strategies and tips on how to overcome difficult or tricky questions...I especially love the section about MCAT life because they give me notices and tips on when to apply, when to take the MCAT, and when how to get on the right path to medical school since there's so much information online and it's so confusing. They make everything so simple. Armin is an amazing primary instructor."

- Blueprint MCAT Live Online Pilot Student

"I took my first MCAT on June 28th after doing my own prep-system for 6 months in the middle of quarantine and COVID-19 craziness. I got a 499...I looked through a lot of different courses and decided Blueprint best fit my needs...The content review videos are phenomenal, but I think a huge difference was made with their videos on HOW to take the test. The MCAT is weird and challenging to understand, and their videos give you a guide for how to handle it. I got my score back for my Sept. 12th test yesterday, and I went up to a 512!!!"

- Katherine, Former Blueprint MCAT Student

"Lesson modules were very well done and helpful. They would tell you what you needed to know as well as what you don't need to focus on which helped make the studying process much easier. Other videos that focused on test taking strategies as opposed to content were also very helpful. Overall a very good experience that made me feel well prepared for the MCAT exam."

- Joseph, Former Blueprint MCAT Student